Dog Beds 101: Finding The Best Fit For Your Dog
Posted by Alicia Compton on
Growing up we had a lot of pets. But, there's one thing I don't remember having in our home full of pets. We never had dog beds in the house. Our dogs laid wherever they landed. During the cooler seasons they'd often want to lay on the carpet in the living room. When it was warmer outside, they preferred the cool tile floor in the kitchen.
I didn't realize the importance of dog beds until I began working in the pet industry. It's amazing the things you learn about animals when you chose this industry. In a way, our dogs are a lot like us. They need food and water to survive. It's important to provide them with shelter. So, why would providing be any different? Imagine the toll it would take on your body if you had to sleep on the floor for years.
Doctors Foster and Smith has a great post on their website in reference to why your dog needs a bed. Your dog needs a bed for the same reasons you need a bed. Having a soft place to land helps ease and prevent achy muscles and bones.
Benefits of Dog Beds
A bed for your dog offers great support for their bones and muscles.

Is your bed your comfort zone? The same goes for your dog. It provides him or her with a safe place to lay their head.

Having a dog bed also helps with the hair your has shed. More than likely your dog will spend a lot of time on his or her bed. So, must of that loose hair will be stuck to their bed.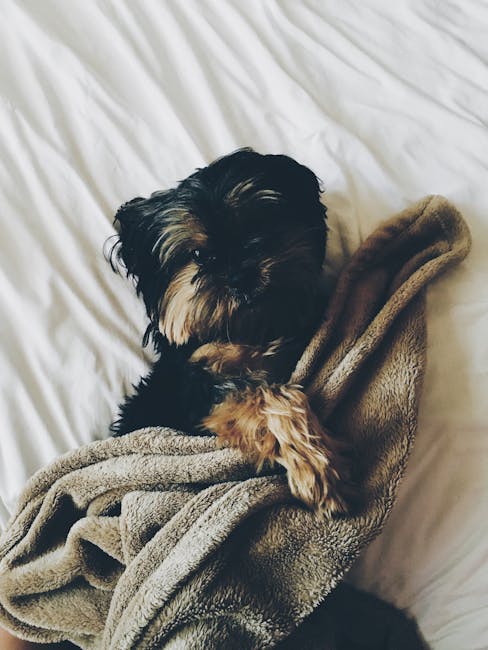 Now, there can be a "dangerous" side to dog beds, too. Do you have a dog who has a destructive side? You know what I'm talking about. He didn't have to chew up your new $400 pair of shoes! It's possible in the spur of the moment he may shred his dog bed.
I know what you're probably thinking. How is a dog chewing up a bed dangerous? Because, from the sound of it, it just sounds like a huge mess.
In early March I wrote a post about fun ways to keep your cat active. That post also contained a very personal touch. I spoke about my Siamese cat Shorty. He almost lost his life after ingesting over a foot of sewing yarn.
Cat Activities Perfect for Your Feline Friend
Most dogs are larger than your typical house cat. But, they can still suffer from intestinal blockages. This happens when your dog eats something that isn't, well, meant for eating. Their body isn't able to digest the foreign material. The object can become wrapped around organs. Which was what happened in Shorty's case.
Working at a veterinarian clinic for over 5 years I saw a lot of "intestinal blockage" cases. Especially in large breed puppies. One time we had a 5 month old Golden Retriever puppy boarding with us during Spring Break. She weighed about 45 pounds. Her last night at the kennel, after her dinner, she threw up a WHOLE pair of child's underwear.
The underwear wasn't even chewed up or shredded! She was very lucky THOSE didn't cause an intestinal blockage.
We had other cases, too. Dogs who ate socks, toys, and makeup. It seems like a favorite among cats were elastic hair ties, string, yarn, and plastic. Anything plastic. Cats just seem to LOVE plastic.
So, getting to my point of how a bed can be dangerous. Let's say your dog decides to shred his or her bed in a moment of boredom. The inside of the bed is so yummy they HAVE to eat it. I don't mean just chew on it. But, the bed material must be swallowed, too!
What Are Dog Beds Made Of?
I have to say, it probably doesn't matter what your dog bed contains. More than likely, it's not recommended that your dog eats it like a 5 course meal. In most cases whatever he or she ate is going to pass in their stool. But, that isn't always the case. If an intestinal blockage does happen you may end up with a mess.
It's unfortunate. But, you may have to do many trial runs on finding the perfect bed for your dog. One that they, you know, love too much to shred.
Companies make and fill dog beds with many different types of materials. Each having their pros and cons. A lot of these products are filled with wood chips, plastic pellets, and standard polyfill. Standard polyfill is a popular choice for stuffing pillows.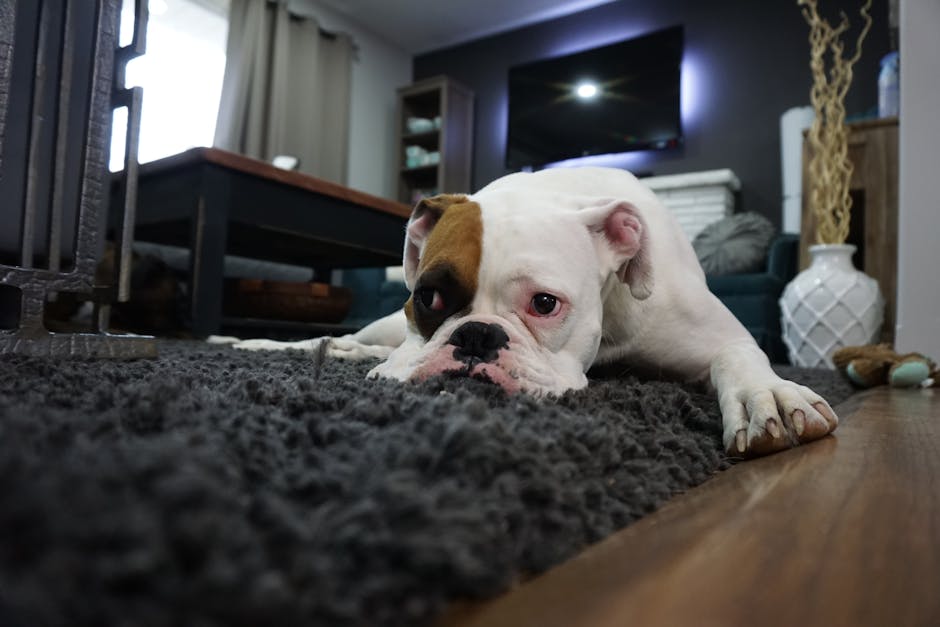 There are a lot of premium choices, too. The saying that you get what you pay for will always ring true for me. When it comes to dog beds, I'd rather choose one that will last and is durable. My favorite premium choice would be memory foam. But, there are other great options, too. Options like eco-fleece.
Dog Bed Material Comparison Chart
Material

Pros

Cons

Durability

Cost

Memory Foam

Helps ease arthritis




Protects and eases achy bones and muscles




Provides a better sleep option




Molds to the shape of the dog





Memory foam is more on the expensive side




Memory foam may retain some heat





Most memory foam dog beds are very durable.

$50 - $300+

Eco-Fleece

Made with 100% recycled materials




Hypoallergenic




Eco-friendly




Easy to wash

Most eco-fleece dog beds and blankets are not very thick




Lacks firmness




May be quick to wear and tear

Some eco-fleece products are more durable than others.

$45 - $130+

Fleece

Plush and comfy




Usually smaller. So they're easier to wash and store




Great option for traveling




Inexpensive

Fleece dog beds tend to flatten out over time




Snags and rips are common with fleece

Some dog beds that contain fleece are durable. Others are more on the cheap side.

$6 - $25+

Polyfill

Affordable




If the bed has a removable cover, the bed is easy to clean

Some polyfill beds do not come with a removable cover. Over time the polyfill will get lumpy after being washed.




Lacks support




Hard to remove odor from them

Depends on the type of polyfill.

$40 - $130+

Plastic Pellets

Provide additional support




Most of these beds have removable covers. Making washing the beds easy




Strong

The pellets may knock together when your dog lays on it. Making the bed possibly a bit noisy.




Beds with pellets often do not seem as "stuffed" as beds stuffed with other materials




Some pellet filled beds are known to have a strong chemical smell

While the material the bed is made of may seem strong, a chewer may easily be able to chew a pellet filled bed up

$40 - $150+

Wood Chips

Eco-friendly




Wood chips are known to keep any unwelcome insects away




Absorbs moisture




Biodegradable

After drying out, may be a breeding ground for mold and bacteria




May cause allergies




Some dogs are not bothered by the smell the chips give off. Some are.




Dangerous if your dog ingests a wood chip poking through the bed

Not super durable. Easy for a wood chip to poke a hole through the bed fabric.

$60 - $150+
Memory Foam Dog Beds: Possibly Dog AND Man's Best Friend?!
Like I said above, as far as dog bed preference goes memory foam is my top choice. Initially, the reason I loved memory foam was a bit selfish. You know, typical me. Only thinking about myself. I finally broke down and bought a memory foam mattress topper for my bed. Best investment, ever!
When I bought my memory foam topper my dogs enjoyed old, used beds. Some of them were lumpy. Others were so flat my dogs would've been just as happy on the bare floor.
My oldest dog at the time was a 16 year old chihuahua. She was a mean, but loved, little old lady. I remember the morning I realized how much better I felt after sleeping on the topper. I could only imagine how much better it would make my chihuahua feel!
At the time I couldn't afford to replace all of our dog beds. We had quite a few. It was becoming the norm to stock up. Mainly because of how fast they would get destroyed. So, I replaced the old lady's bed first.
She was extremely tiny. Weighing in at only 5 pounds. Due to her size I was able to buy a small memory foam dog bed. Which was a nice start. Smaller beds don't seem to cost as much as larger beds do.
Our old girl lived to be 18 years old. Do I know if the memory foam bed lengthened her life? Absolutely not. But, I can say that once I bought the memory foam bed she was much happier. Her spring was back in her step when she woke up. She no longer cried when she woke up. The memory foam may have not made her live longer. I do know it did allow her to be comfortable during her final "golden years".
As time went by, we slowly replaced all of our dog beds with memory foam beds. All of the beds we've bought have came with removable covers. Removable covers that are machine washable. Making our beds easy to clean. Which is vital with a home that consists of adults, kids, dogs, and a hamster.
Besides our chihuahua's bed, all of our memory foam beds have been HUGE. So, they aren't ideal for us to move from room to room. They aren't exactly ideal for traveling either. Thankfully PetFusion offers a great option that is almost just as good as memory foam.
The PetFusion Premium Micro Plush Pet Blanket is a great portable option to give your dog a soft place to lay his or her head. It's made of 100% polyester micro plush. It's great for all seasons, too.
PetFusion Premium Micro Plush Pet Blanket Features
Made of 100% polyester micro plush

Modern colors

Made of dense fibers

Shed resistant

Easy to clean - it's machine washable

Includes a 12 month warranty
Are you looking for a more "at home" bed for your pooch? I hope you're finally sold on the memory foam idea. If you are, you'll LOVE these memory foam dog beds. Not quite sold yet? Then you've GOT to read the benefits of memory foam below.
Memory Foam Dog Bed Benefits
According to Petcha.com there are many benefits to investing in a memory foam dog bed. One of the benefits I touched on earlier. Memory foam is great for older dogs with achy bones and muscles.
Memory foam has a lot of other great benefits, too. The miracles it can perform for certain ailments is truly out of this world!
Dog Ailments that Memory Foam May Help
Hip dysplasia

Arthritis

Loss of muscle tone

Injuries (fractures, broken bones, ligaments, tendons, etc.)
It's possible that memory foam may even help a dog with anxiety. Because it's well known that this material gives dogs a feeling of safety.
When picking out your dog's bed make sure you get the right fit. Double check measurements to make sure your dog can comfortably fit in/on the bed. Plus, make sure that the memory foam used is the correct thickness and integrity that you're looking for. As different memory foam dog beds are made with different quality foam.
PetFusion offers a simple, but modern, bed that is a premium, but affordable option. The SerenityLounge Dog Bed is a large memory foam bed. The SerenityLounge measures at 36 x 28 x 4". This bed is the real deal.
The SerenityLounge Dog Bed Features
Made of SOLID memory foam

Includes a premium cover that is washable AND water resistant

The bottom of the bed is non-skid

A glorious 4" of memory foam

Is made of soft and durable suede microfiber

Easy assembly
Personally I am fond of the dog beds that resemble actual couches and beds. They just feel more "at home" to me. Of course PetFusion has you covered in that area, too. The PetFusion Ultimate Dog Bed & Lounge has more of that couch vibe going on. It's a little more pricey than the SerenityLounge. But, the price is still a steal for it's quality.
This bed also comes in 3 different sizes. You can order it in small, large, or extra large. As well as all of PetFusion products, this bed has that "modern" look to it. It's going to fit in with any kind of home decor.
With all of the available options out there for dog beds it's a tough decision. Are you looking for your dog to sleep just as comfortably as you do? Then, without a doubt, I would invest in a memory foam bed. The benefits of memory foam go above and beyond just easing ailments.
Benefits of Memory Foam Dog Beds
Provides superior over all comfort

Reduces joint pain (excellent for arthritic dogs!)

Promotes improved health

Helps with mobility

Increases energy
You can also benefit from memory foam. It can also help you sleep better. So, if you're not convinced how it can help your dog -- add a memory foam mattress topper to your bed setup. You'll see the difference almost right away. Then I bet, just like me, you will replace all of your dog beds with memory foam dog beds, too.
---
Share this post
---
---
---
0 comment